Mission: SERC cultivates a collaborative space to strengthen the collective effectiveness of the sustainability community, and provides resources for students to actualize their visions of a more equitable, socially just, and resilient future.
The Student Environmental Resource Center was envisioned in 2012 by UC Berkeley students who, inspired by campus centers such as the Multicultural Community Center (MCC) and the Gender Equity Resource Center (GenEq), determined the need for a campus center for the student environmental and sustainability community. SERC student leaders received initial advising and financial support from The Green Initiative Fund (TGIF) when they won a 2012 TGIF grant. October 2012, SERC opened its first temporary space in the Martin Luther King Jr. Student Union building, thanks to the generosity of the Cal Student Store.
When the Student Union building closed in February 2013 for the Lower Sproul Redevelopment Project, the Department of Environmental Science, Policy, and Management (ESPM) within the College of Natural Resources generously donated Mulford Hall 337 to SERC. SERC subsequently flourished, hosting its first Environmental Town Hall, the 2013 California Student Sustainability Coalition Convergence, a GreenCorps Workshop, and a Green Careers Networking Event with PowerSave Campus.
SERC soon won a 2013 CACSSF Recurring Grant, enabling SERC to transition from registered student organization (RSO) to campus functional area within the LEAD Center, a department of the ASUC Student Union within the Division of Student Affairs. The transition included hiring the first career staff SERC Director in December 2013, as well as adding The Green Initiative Fund to the SERC portfolio, in recognition of TGIF and SERC's shared history as student-initiated sustainability-focused programs,  and TGIF's reputation as a national model for campus green funds.
With the addition of TGIF to the SERC portfolio, TGIF grew its own portfolio to include the Zero Waste Research Center and the Nature Village Sustainable Family Living Program at University Village. TGIF hired a new Coordinator in August 2014, and SERC expanded its student staff in order to manage SERC's growing programs, initiatives, and events, including the Career and Film Series, SERC DeCals, Earth Week, and ECO.
In 2016, SERC achieved two major accomplishments: SERC successfully renewed The Green Initiative Fund at an increased fee until 2027, and SERC was awarded 1,350 sq. feet to open its first center in the MLK Student Union basement, B North.  The physical space/center, is critical to SERC's objectives of cultivating discourse, creating collaborative working space, offering programs, and growing campus community, particularly student community and a sense of belonging.
In 2017, SERC continued to expand its programs, projects, and resources, which grew to include the hiring of the first Environmental Justice Associate, and the expansion of Solar Spring Break. SERC second Director and third full-time Coordinator was also hired this year. SERC's student staff grew into a thriving force of over 20 students, managing the day-to-day operations and environmental programs for the campus. In 2018, TGIF launched its first Environmental Justice themed grant cycle.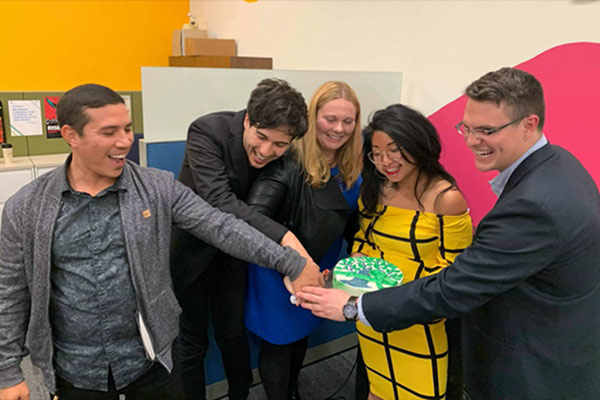 SERC moved into its first physical center, in B North, in Spring 2019 and held their official grand opening in May 2019. The SERC Grand Opening was attended by SERC co-founders, previous staff, Director, alumni, and UC Berkeley students, staff, and community members. In September 2019, SERC hired and welcomed the fourth TGIF Coordinator." 
SERC Founders (2012): Nolan Pack, Mauricio Castillo, Noah Puni
SERC Director (Dec 2013-Feb 2017): Katherine H. Walsh (served as SERC Advisor May 2012-Dec 2013)
Learn more about current and previous SERC Staff here.
The Student Environmental Resource Center is department within the Dean of Students Office in the Division of Student Affairs at the University of California, Berkeley.
Conscious Impact | Equity and Inclusion | Community Engagement | Student Sovereignty | Bold Imagination
Conscious Impact
SERC exercises mindful decision-making in its efforts to achieve environmentally and socially just outcomes
Equity and Inclusion
In order to maintain authentic relationships and avoid tokenization, SERC provides environmental and social justice programming and resources to create a space that values the perspectives and narratives of marginalized and underrepresented students
Community Engagement
In order to foster a sense of belonging and develop individuals into change-makers, SERC builds and strengthens relationships and interpersonal ties through deliberate, sustained outreach and open communication to the environmental community
Student Sovereignty
SERC honors student agency by providing support for students to create their own, self-governed sustainability programming
Bold Imagination
SERC provides necessary resources for creative problem-solving to encourage students to question the status quo, interrogate the current realm of possibilities and barriers, and apply their ideas through sustainability projects and initiatives