Carbon Neutrality by 2025
In November 2013, President Janet Napolitano announced the Carbon Neutrality Initiative, which commits UC to emitting net zero greenhouse gases from its buildings and vehicle fleet by 2025, something no other major university system has done. SERC is committed to assisting the UC, particularly UC Berkeley, in achieving Carbon Neutrality by 2025.
Currently, Dante Gonzales, the CNI Engagement Fellow for UC Berkeley, is working to achieve CNI's goals through the SERC Project Team called Carbon Crew. Striving towards the goal of guiding the UC Berkeley campus towards Carbon Neutrality by 2025, this team is working tirelessly to change campus infrastructure to reduce carbon emissions, and educate campus members on the goals of the Carbon Neutrality Initiative.
Check out our awesome team members below!
Campus Engagement
Fall 2018: During this semester, our awesome Campus Engagement team designed Carbon Neutrality Initiative stickers and buttons, and tabling on Sproul Plaza. The Campus Engagement tabled with the intent of informing UC Berkeley students on the goals of both the Carbon Neutrality Initiative and Carbon Crew as well as sharing 2025 goals with our fellow bears on our community tree. Lastly, this team has also created the long-term photo campaign #whatcarbonneutralitymeanstome. This photo campaign can be found here.
CO2 RE (CO2 Reduction and Education Team)
Fall 2018: During this semester, our fantastic CO2 RE team developed carbon neutrality curriculum for grades K-5. This team also had the privilege, thanks to our community organizer Jed Lee, to teach one of these lessons to 25 third graders at Hoover Elementary. At the end of their lesson, CO2 RE gave these students the opportunity to make carbon reduction pledges and create a beautiful sunflower for their classroom! Pictures of this lesson can be found here.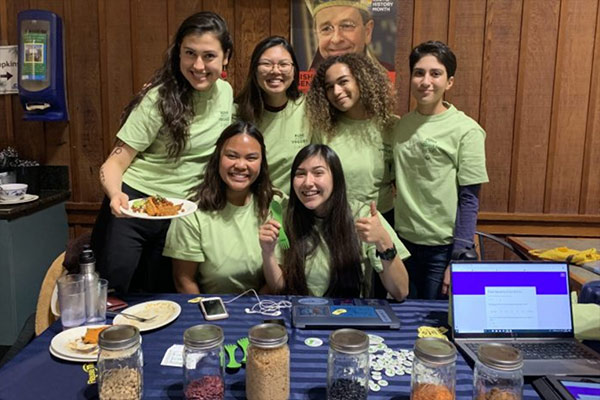 Food Team
Fall 2018: In partnership with the Cal Dining Sustainability Team, our wonderful Food Team created and executed their very first Sampling Event at Foothill Dining Hall. Chef David made an amazing Loaded Sweet Potato Bar, highlighting sweet potato and chickpeas as ingredients that are not only less carbon intensive, but also healthy and tasty. The Loaded Sweet Potato was tasted by approximately 110 students and received an average rating of 8.6! Food Team also discovered that about 97% of participating students asking for more plant-forward dishes incorporated in our menus. Check out our first sampling event here. Going into the next semester, our Food Team is attempting to host weekly sampling events at breakfast, brunch and dinner shifts. At the end of this academic year, this team will be presenting their results to the Cal Dining Menu Planner in the hopes of incorporating more plant-forward dishes that are innately healthier and less carbon intensive, bolstered by positive student responses from our survey.
Educate Yourself
Check out the following resources to learn more about the UC Carbon Neutrality Initiative:
Carbon Neutrality Resources for UC Campuses: