THE SERC GALA
After a challenging year, we want to present an opportunity for our environmental community to come together and celebrate our moments of joy and resilience. Join us for an evening of live performances, laughter, and smiles! Contact Megan Wu, pin@berkeley.edu for questions/concerns.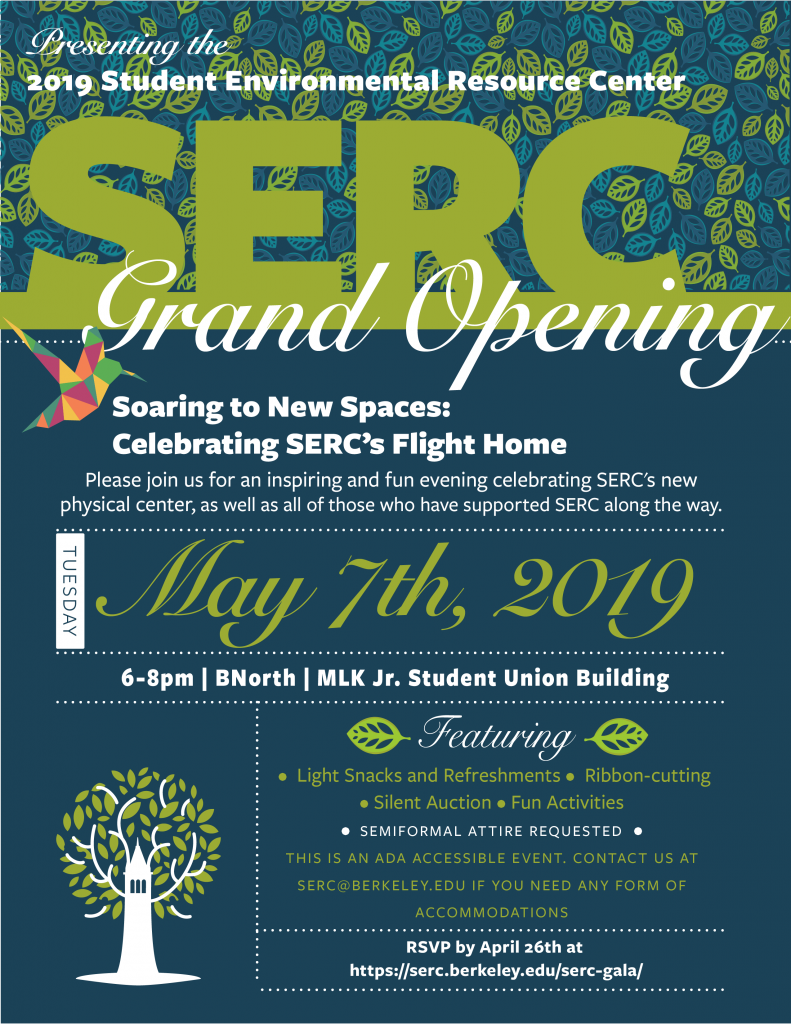 Please join us at the 2019 Student Environmental Resource Center (SERC) Grand Opening: "Soaring to New Spaces: Celebrating SERC's flight home" on May 7th, 6-8:00pm in bNorth, MLK Student Union Building, at the University of California Berkeley.
This will be an inspiring and fun evening celebrating SERC's new physical center.
Our grand opening will include food and drinks, activities, a silent auction, and an opportunity for all of us from SERC to thank those who have supported along the way.
This is a semi-formal event. Opening remarks & "ribbon"-cutting begin at 6:40pm.
The SERC Grand Opening is an ADA accessible event. If you need any form of accommodations to fully participate in the event as described, please contact us at serc@berkeley.edu.
This is a FREE event. If you would like to make a donation to support SERC's programs and services, please donate here:
Directions/Location:
SERC is located in bNorth in the MLK Jr. Student Union Building. The main entrance is located on the North side/1st floor entrance.
Transportation & Parking:
UC Berkeley is public transportation friendly. Closest Bart Station is Downtown Berkeley, and is a ten minute walk from the station.
Closest parking lot is the Lower Sproul Parking Garage. This is a paid parking garage. You can follow signs from this garage to SERC.