Our Mission Statement
Earth Justice Month is a collaborative series by SERC and UC Berkeley's environmental campus departments and organizations, encompassing Zero Waste and Climate Justice. We aim to recognize sustainable efforts on-campus and beyond while further advocating for inclusive, equitable paths towards a racially, environmentally, and socially just future. Due to the Covid-19 pandemic, events have been designed to be hosted online.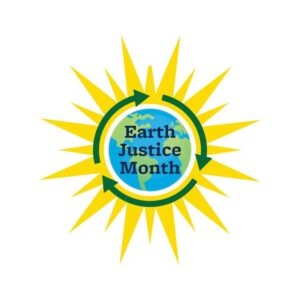 Earth Justice Month Aims To:
RECOGNIZE the history of the environmental movement within the past 50 years. Celebrate the achievements won and the labor put forth, but also reckon with the mistakes and injustices made along the way. Appreciate the lessons to be learned.
REDEFINE environmentalism! Expand beyond the mainstream boundaries that perpetuate the elitist concept of environmentalism being purely the conservation of the physical world. Center People and root all work in environmental justice. Understand that environmental justice IS racial justice IS social justice!
REIMAGINEwhat the next 50 years could look like. What does a just, equitable, and sustainable world look like? What will environmentalism mean then? Where will we be?
SERC staff works to ensure all events and programs represent the sustainability community's understanding of diversity and inclusivity: race, ethnicity, gender, age, national origin, religion, disability, sexual orientation, socioeconomic status, education, marital status, language, and physical appearance.
If you need any form of accommodations to fully participate in the events as described, please contact serc@berkeley.edu.
Envisioning Environmental Equality: Understanding Environmental Justice Work Event Recording
"Remembering Joy and People Power": Climate Resilience Through Spoken Word Event Recording
Classroom Perspectives: A Discussion on Environmental Displacement Event Recording
Practicing Hope: Combatting Pessimism in the Climate Movement Event Recording